Results for Are We There
reviews
Are We There available on iTunes
Sharon Van Etten Are We There
On her latest album, Are We There, indie songstress Sharon Van Etten trades in the quiet guitar and occasional backing band of her previous albums, for a fuller, more baroque sound that takes both Jim and Greg by surprise. Greg loves the pairing of Van Etten's biting lyrics opposite the music's lush strings and horns arrangements. He says that Van Etten has finally come into her own making Are We There her most accomplished work to date. Jim isn't as goo-goo eyed as Greg is over Van Etten's move away from her simpler singer-songwriter days. Are We There's eclectic instrumentation occasionally stumbles over itself, but on less busy tracks when Van Etten's vocals can really shine through, all of the album's musical faults are forgiven. Both critics say Are We There is a Buy It.
Go to episode 445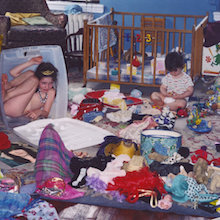 Sharon Van Etten Remind Me Tomorrow
Remind Me Tomorrow is Sharon Van Etten's fifth official album and first in nearly five years. Since her debut in 2009, Van Etten's profile had steadily grown until she essentially walked away from her recording career after 2014's Are We There. Instead she went to college hoping to become a mental health counselor, started a romantic relationship with drummer Zeke Hutchins, acted in the Netflix show The OA and gave birth to a son. Loyal fans didn't lose hope, though. One even made a t-shirt asking when Van Etten would record a new album. When she started work on the new album, instead of featuring guitar or piano as she has in the past, Van Etten built her sound around the Roland Jupiter 4 synthesizer. Greg says you might have heard that instrument on a Spandau Ballet album, while Jim calls it the"Farfisa trash organ of synths."They both praise Van Etten's newly reimagined sound. Greg calls the sonics her"boldest touch here."He says the connection between the creepy sounds and very astute lyrics and melodies indicate that Van Etten may be getting even better as an artist. Jim likens the album to Radiohead's Kid A in that it expresses uncertainty in the outside world and how it encroaches on personal life and self expression through art.
Go to episode 688
featured songs