Results for Andre 3000
reviews
Sir Lucious Left Foot: The Son of Chico Dusty available on iTunes
Big Boi Sir Lucious Left Foot: The Son of Chico Dusty
Outkast rapper Big Boi has released his first solo album called…wait for it… Sir Lucious Left Foot: The Son of Chico Dusty. Big Boi is often thought of as the more down to earth of the two Atlanta hip hop artists, but both Jim and Greg think the record is very inventive and ambitious. Greg does miss Andre 3000's presence, and thinks the two make each other better. But overall, Sir Lucious Left Foot is full of great beats and oddball touches and gets a Buy It rating. Jim agrees and was pleasantly surprised to hear these tracks, especially after all the torture that went into making it. It has a tad too many vulgar and juvenile lyrics, but he still thinks listeners should Buy It.
Go to episode 242
Outkast Idlewild
In the news this week is the release of one of the most highly anticipated albums of the year: Outkast's Idlewild. This is the sixth album from André Benjamin (André 3000) and Antwan Patton (Big Boi), a hip-hop duo who have become major figures in pop music, as well as pop culture. 2003's double concept album Speakerboxx/The Love Below received huge amounts of critical acclaim, as well a Grammy Award for "Album of the Year," and singles like "Bombs Over Baghdad," "Rosa Parks," and "Hey Ya," will go down as some of music's best. So Jim and Greg anxiously awaited this release, which is paired with a film of the same name. Unfortunately, they both had to announce that this is one of the biggest disappointments of the year—and André may be to blame. The melding of his experimental style with Big Boi's more classic hip-hop sound is what made Outkast great, but he seems to have really left the building on this one. Jim and Greg wish the record was less about unnecessary guest stars, faux 1930s inspiration, and eccentricity for eccentricity's sake, and more about good songs. This double album gets a heartbreaking double Trash It. (Outkast fans would be better off checking out Big Boi's recent mixtape, Got Purp? Vol 2.)
Go to episode 38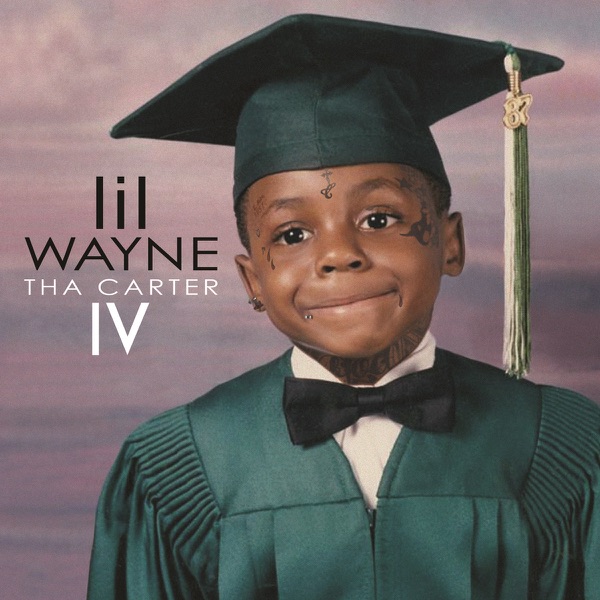 Tha Carter IV available on iTunes
Lil Wayne Tha Carter IV
Lil Wayne is fresh out of Rikers with the 4th album in his Tha Carter series, Tha Carter IV. But curiously, he doesn't give much time to his jail experience. For the past decade, he's been one of the most successful rappers in the business, both with his releases and mixtapes, but also as an ever-present cameo fixture. Jim describes Weezy as an interesting producer, but he can't get over the hip-hop clich'es. Tell us about prison, he pleads. Without those insights, this is a Trash Italbum. Greg was surprised to find that the most interesting rapping on Tha Carter IV was not by Lil Wayne himself. Rather, guests like Andre 3000, Tech 9 and Busta Rhymes take the prize. So for those tracks alone, Greg says Burn It.
Go to episode 301
news
Music News
Hard to believe, but The Beatles are so old that some of their music is now entering public domain in Europe. While a law is in place to extend copyrights in the E.U. from 50 to 70 years, that won't go into effect until 2014. That means that as of New Year's Eve 2012, early tracks like "Love Me Do" are up for grabs. Early tracks by Bob Dylan, however, have recently been protected. In order to avoid its catalog going into public domain, Sony Music has taken advantage of the law's"use it or lose it"clause. They released a compilation aptly titled, The 50th Anniversary Collection: The Copyright Extension Collection, Vol. 1. It's only available in certain European countries though, so American Dylan fans will have to be willing to pay big bucks on eBay.
This is typically the dry season for major album releases, but there have been a lot of buzzworthy singles. Jim and Greg run through some of the big ones. They never thought they'd utter the words "new David Bowie track," but we've got one called "Where Are We Now," with a Tony Visconti-produced album to follow. Then there's JT's new chart-topper "Suit and Tie." A couple of weeks ago Jim and Greg made a plea for the gentleman of Outkast to come back together, and now we have both Big Boi and Andre 3000 appearing on a remix of Frank Ocean's "Pink Matter." But, Andre is quick to squash any reunion rumors. Last, but not least, are the ladies of Destiny's Child. There's a new song called "Nuclear" and plans for the three to appear together during the Superbowl Halftime Show. Guess motherhood has made Beyonce nostalgic.
Go to episode 373