Results for Alec Ounsworth
interviews
Clap Your Hands Say Yeah
Jim and Greg sit down with the band Clap Your Hands Say Yeah. This East Coast quintet was one of the success stories of 2005. They paid for, produced, and released their self-titled debut album on the 'net without the help of a record label. Now they've sold over 100,000 albums and are selling out shows across the country. Professor Lawrence Lessig, cyberlaw expert and esteemed Sound Opinions guest, cites the band as an example of how people can use the Internet to propel music. A community formed around the band — one that was still willing to pay for their music despite the fact that it was available for free. As Jim points out, this completely contradicts what the RIAA and music industry execs would have you believe.
The lead singer of Clap Your Hands, Alec Ounsworth, is often compared to Talking Heads frontman David Byrne, and this goes beyond just vocal quality. Alec mentions his love of Another Green World by groundbreaking"non-musician"Brian Eno (or Brian Peter George St. John le Baptiste de la Salle Eno as his parents know him). You can hear a lot of the New Wave sound and Eno's philosophy in the band's music, like on the spartan, rhythmic New York sound of "Sombre Reptiles."
The band, which got its name after the members saw"Clap Your Hands Say Yeah"scrawled on a Brooklyn wall, play several songs from their debut album. Jim sees keyboardist Robbie Guertin's parents sitting in the Chicago Public Radio control room and reminisces about when his own mom used to come to see him play at less-than-refined venues like CBGB's. He adds that Joey Ramone's mom also used to carpool him and the rest of the band to their gigs. It seems parental support is crucial to punk rock success.
Go to episode 22
reviews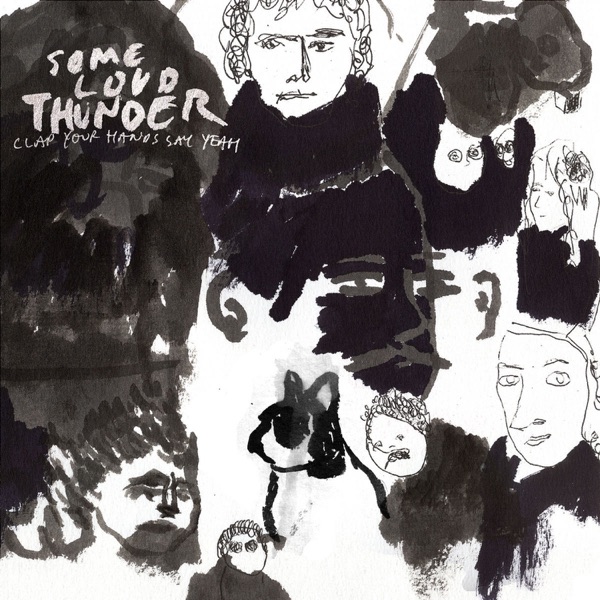 Some Loud Thunder available on iTunes
Clap Your Hands Say Yeah Some Loud Thunder
Clap Your Hands Say Yeah also recently released a new album. Some Loud Thunder is the follow-up to their highly successful self-released and self-titled debut. The band has again released the album on their own and is selling it on their website. This time, however, they got help from producer Dave Fridmann, who is responsible for the studio sound of the Flaming Lips. In fact, Jim explains that Fridmann serves as the Brian Eno to the band's Talking Heads, despite protests from fans who shy away from that comparison. Greg agrees that he definitely hears David Byrne's influence on lead singer Alec Ounsworth. And for the most part, that influence agrees with the critics. There are a number of solid songs on Some Loud Thunder. Some are even poppy and danceable. But, the remainder of the album is just plain difficult to listen to. For that reason Jim and Greg can only give a Burn It rating.
Go to episode 62