Results for AFI
reviews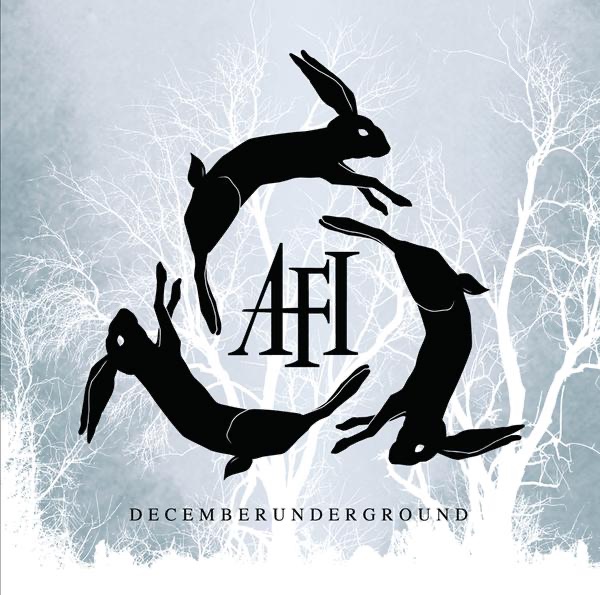 Decemberunderground available on iTunes
AFI Decemberunderground
While they may be experiencing a ticket sales slump, the Dixie Chicks continue to sell albums. This week, however, they were bumped from the top Billboard slot by pop-punk phenoms AFI. The band's seventh album, Decemberunderground, debuted at number one, cementing their status as more than cult-like. AFI, however, would not shy away from matters of the cult. Much of their appeal stems from their depressed, goth, sun-hating, eyeliner-loving image. Angst-ridden teenagers are obsessing over the group as they have done before with bands like The Cure. But this time around is different, Jim explains. To him, the band members are goth posers and represent the popular guy rather than the tragic poet. Greg adds that even their sound is mainstream. He likens the big, slick production values to that of Mutt Lange and his '80s hair bands. Therefore, both hosts give Decemberunderground a Trash It.
Go to episode 29
The Smashing Pumpkins Zeitgeist
After formerly announcing their reunion in May, The Smashing Pumpkins have finally started touring and have produced an album to be released next week. Zeitgeist is the band's first record since they ended their alternative reign in 2000, but this time only half of the original members are back. Pumpkins' impresario Billy Corgan is joined by long-time collaborator Jimmy Chamberlin, as well as two other musicians standing in for James Iha and D'Arcy Wretzky. In true Corgan fashion, the band is already making news. In a marketing scheme that perhaps doesn't fit their alternative sensibilities, they've struck a deal with three major music retailers. Target, Best Buy and iTunes are all getting a different bonus track along with the regular version of the album. That means that fans purchasing Zeitgeist at an independent music store will only get the LP sans bonus tracks. This has angered some, but Jim and Greg actually don't think this plan is so egregious. In the past Corgan has offered his album for free on the internet and has given many free concerts. And in an age where it's difficult to get people to actually purchase CDs in stores at all, who can blame a band for adding incentives. The real question is whether or not Zeitgeist is worth purchasing at all. Jim explains how we're in an era of alternative nostalgia, and Corgan certainly seems interested in reclaiming the good ol' days of the 1990s when the Pumpkins were on top and were making music that sounded like nothing else. The problem is that now this music sounds like almost everything else. With angsty rock bands like My Chemical Romance and AFI on the scene, the Pumpkins aren't really offering anything unique. Both Jim and Greg find this reunion recording to be merely an imitation of a great Smashing Pumpkins album, and wish that the music lived up to its title. They give Zeitgeist two Burn Its.
Go to episode 83