Results for 1979
classic album dissections
The Wall available on iTunes
Pink Floyd The Wall
With the first new music from Pink Floyd in nearly 20 years coming this month, Jim and Greg take a look back at band's 1979 classic album The Wall. It's celebrating its 35th anniversary. The brainchild of Roger Waters, the epic double album touches on a range of tortured topics like fame, divorce, mothers and paranoia. During their dissection, Jim and Greg dive head first into Water's personal lyrics and compare the The Wall to other albums in the band's catalog. Then, our hosts choose their favorite tracks; Greg goes with "Mother" and Jim selects "Run Like Hell."
Go to episode 466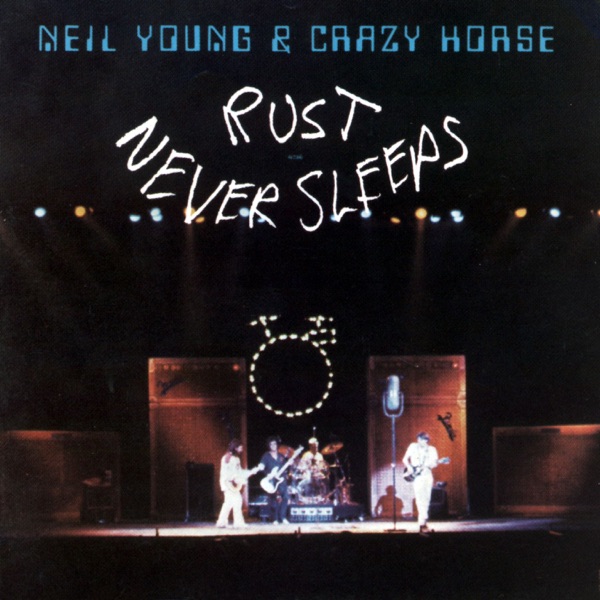 Rust Never Sleeps available on iTunes
Neil Young Rust Never Sleeps
For our 300th episode, Jim and Greg wanted to do a Classic Album Dissection of one of their favorite records of all time: Rust Never Sleeps by Neil Young. The 1979 release was mostly recorded live during Young's 1978 tour, save some overdubs. As Jim and Greg discuss, it was in large part a response to the emerging punk music. How does a classic rocker from the '60s grow and evolve? This is how. As Young sings in "My My, Hey Hey (Out of the Blue)," "It's better to burn out, than to fade away."
That song bookends the album, with the middle tracks broken into an acoustic section and an electric one. Jim remarks how brave it was for Young to come out with nothing but an acoustic guitar. He particularly loves the song "Pocahontas," which makes reference to the Native American icon in addition to the Hollywood icon Marlon Brando. Greg chooses to highlight the hard-stomping electric "Powderfinger," which attempts to reconcile America's complicated identity.
Go to episode 300
dijs
Jim
"Take the Long Way Home"
Supertramp
Tame Impala's Kevin Parker wasn't afraid to declare his love for the admittedly un-hip Supertramp during this week's interview, and neither is Jim. Jim celebrates the British band's signature mix of prog and pop during this week's DIJ. He says "Take the Long Way Home" from 1979's Breakfast in America is characteristic of the band's simultaneously sunny and threatening take on orchestral pop.
Go to episode 389
Jim
"Meet the Creeper"
Destroy All Monsters
Last month bassist Michael Davis of the legendary Detroit bands the MC5 and Destroy All Monsters died at age 68. So during this episode Jim wants to honor him by adding a 1979 Destroy All Monsters track called "Meet the Creeper" to the Desert Island Jukebox. It features Davis on bass along with Ron Asheton of The Stooges and a lead singer simply called Niagra.
Go to episode 327
Jim
Jim took his turn at adding a track to the Desert Island Jukebox as an opportunity to hear more Neil Young. He chooses "Powderfinger" from Young's 1979 album Rust Never Sleeps. As Jim explained in the review segment, many of Young's best songs were on the original, never-released Chrome Dreams, and"Powderfinger"is one of those songs. He considers it a standout in the musician's career for two reasons: the powerful, emotional guitar-playing and the fascinating, albeit enigmatic, lyrics. However you interpret the song, Jim is certain it's one you'll want with you on a deserted island.
Go to episode 99
news
Music News
iTunes announced that it will be offering cut-rate downloads on several albums in its catalog. The albums, which retail for $5.99 and $6.99, are part of a new series called"Next Big Thing."The bargain bin includes albums from up-and-comers like LCD Soundsystem and Peter Bjorn and John. Jim and Greg are happy to see that the giant digital music retailer is waking up. Six bucks is a perfectly legitimate amount to pay for such good albums, and this is a move that's certain to please consumers, if not record labels.
Also in the news, pop star Avril Lavigne is being called out for a couple instances of plagiarism. First, power pop band The Rubinoos launched a legal case against Avril, claiming that her single "Girlfriend" was lifted from their 1979 song, "I Wanna Be Your Boyfriend." Avril denies this, but the similarities are pretty striking. Then, gossip blogger Perez Hilton pointed out another suspicious similarity. The first 20 seconds of Avril's "I Don't Have to Try" sound nearly identical to electroclasher Peaches' track "I'm the Kinda." Jim and Greg think the evidence is stacking up against Avril, but are quick to point out that all rock music has been cribbed from one source or another.
Next Jim and Greg relay their experiences that at the recent Police reunion show in Chicago. Greg was pretty unimpressed, and says that the show was definitely not worth what people paid. Jim was less harsh, but agrees with Greg that the Police have always been better on album than live.
The Police concluded their tour at Giants Stadium as part of the Live Earth concert. Again, the band didn't wow our hosts, but it was Kanye West's performance that was the most strikingly bad. In fact, with the exception of a few performances, most of Live Earth was pretty underwhelming to Jim and Greg. And the world seemed to agree. Ratings were quite poor, especially compared to the success of previous attempts like Live 8. Jim is all for music influencing people to make change, but he didn't hear anything truly inspirational coming out of this crop of musicians. And Greg found the event to have a great lack of focus, though both hosts are all for Al Gore replacing Bono as music's new crusader.
Go to episode 85
Music News
Traditionally the Grammy Awards honor commercial success more than critical. So it was refreshing to see Daft Punk take home so many prizes, including the two biggest: Album of the Year and Record of the Year. Jim and Greg were also pleased with the live performance featuring the French robots with Nile Rodgers, Stevie Wonder, Pharrell Williams, Omar Hakim and Nathan East (Usually the televised ceremony's odd couple pairings are nothing more than stunts). The last dance music album to win the top prize was Saturday Night Fever in 1979. Jim and Greg hope they don't have to wait another two decades for more EDM Grammy wins.
At 94, Pete Seeger lived long enough to know that his music inspired multiple generations. Greg describes him as a working-class advocate who delivered the news through song. And sometimes that news was met with controversy, as with his performance of "Waist Deep in the Big Muddy" on The Smothers Brothers Comedy Hour, attempted unsuccessfully in 1967 and then again in 1968. Jim and Greg play a recorded version of that song in honor of Seeger, who died January 27 of natural causes.
Go to episode 427
featured songs