Results for Bob Ezrin
interviews
Bob Ezrin
Jim and Greg are joined by super producer Bob Ezrin. And when we say super, we're not just referring to his commercial success, but to his sound. Bob Ezrin makes big, epic albums like The Wall, Destroyer and 10 with metal god Alice Cooper. He also produced Lou Reed's Berlin and the self-titled solo debut from Peter Gabriel. He talked to our hosts about reuniting with Cooper for Welcome 2 My Nightmare and shared studio tidbits. Now we know what a prankster Roger Waters was and how Ezrin captured the crying sounds in "Oh Jim." And who knew Peter Gabriel had such a good sense of humor?
If you enjoyed Bob Ezrin's conversation with Jim and Greg, here are some of our other favorite"behind-the-scenes"interviews:
Go to episode 305
Alice Cooper
This week, Jim and Greg talk to shock-rock legend Alice Cooper. Cooper was born in Detroit but later moved to Arizona for high school, where he was a teenage jock in a rock band. His group, The Spiders, performed around Phoenix and LA for a few years before they changed their name to Alice Cooper (Alice's real name is Vincent Furnier.) Their first couple albums Pretties For Youand Easy Action didn't gain much traction but once they teamed up with producer Bob Ezrin, they found success with the album Love It to Death. A string of popular records followed such as School's Out, Billion Dollar Babies and Welcome to My Nightmare but for a time, critics couldn't see past the group's on-stage antics. Alice is perhaps most famous for his special brand of shock-rock including props like snakes, guillotines and even straight jackets. Now, he put out a 15-CD box set, The Studio Albums 1969-1983 and is touring with his new supergroup The Hollywood Vampires, which he formed alongside Johnny Depp and Aerosmith guitarist Joe Perry. Jim and Greg were very excited to speak with Cooper and discuss his on-stage persona, sobriety, music catalogue and relationships with other famous artists.
Go to episode 513
Secret Machines
From Dallas to Brooklyn, and now to Chicago, Secret Machines have stopped by to talk with Jim and Greg and play a rare acoustic performance. The band is known for their full-blown, spacey rock sound, which Greg explains was perfect for the outdoor setting at Lollapalooza this summer. It's interesting, therefore, to hear them so stripped down. Listen to brothers Benjamin Curtis and Brandon Curtis on guitars and Josh Garza on percussion as they perform "Daddy's in the Doldrums" off their most recent album Ten Silver Drops and a cover of "Rest of the Day," by fellow Texans Bedhead. You can also check out the bonus track "1000 Seconds."
The Machines talk about their evolution as a band, which wasn't ordinary. They moved to New York and set up recording time in a studio before they had ever even played together. Their do-it-yourself attitude has paid off though. Both Ten Silver Drops and their debut Now Here is Nowhere were recorded by the band, despite requests from big name producers like Bob Ezrin. Thank God for Eno's "oblique strategies."
Go to episode 57
Glyn Johns
One day in February 1969, engineer and producer Glyn Johns disembarked a flight from Los Angeles to London. He went straight to a studio to work with the Beatles on what would eventually become Let It Be. That was followed by an all-night session with the Rolling Stones for Let It Bleed. And after that, he rejoined the Beatles and jutted on over to Royal Albert Hall to record Jimi Hendrix live. Just"a day in the life,"eh? Those legendary recordings are just beginning of Johns tremendous list of credits which includes Led Zeppelin, the Faces, the Kinks, The Who, the Eagles and more recently Band of Horses and Ryan Adams. He relays this life spent recording in a new book called Sound Man. And he is as candid in his conversation with Jim and Greg, as he is in print. The aforementioned Let It Be? Johns remarks that Phil Spector"puked"all over it. Of Eric Clapton, Johns admits he initially refused to bring him into a session with Pete Townshend due to his drug-addled personality. And he talks about parting ways with the Eagles after they wanted to go in a more rock 'n' roll direction—something Johns says the band wouldn't know if they fell over it.
For more behind-the-booth conversations, check out Jim and Greg's interviews in the Footnotes section with Stephen Street, Butch Vig, Bob Ezrin, Tony Visconti, Mark Howard, Giorgio Moroder, Joe Boyd and of course, Brian Eno.
Go to episode 528
reviews
Saturday Night Wrist available on iTunes
The Deftones Saturday Night Wrist
Next Jim and Greg review The Deftones' fifth release, Saturday Night Wrist. This Sacramento band came out of the nü metal explosion of the mid '90s. That's"nü"with the umlaut, Jim likes to point out. He feels the rap-rock genre that combines heavy metal with a DJ is played out, much like the gangsta rap genre mentioned earlier. But, he explains, The Deftones moved away from nü metal into a more inventive sound with their 2000 release White Pony. Jim witnessed their evolution first hand when he interviewed the band years ago for a Guitar World magazine interview. Now the band has hired producer Bob Ezrin, the man behind Alice Cooper's albums and Lou Reed's Berlin. Greg considers this"an interesting record in terms of tone and texture,"a"plush-sounding record"that would sound great through headphones, and he applauds the band for making such progress. Yet Greg feels the songwriting lacks substance, so he can only rate the album a Burn It. Jim disagrees and gives it a Buy It. He feels the album is for anyone interested in "hard rock that is trying to push the envelope and redefine itself."
Go to episode 53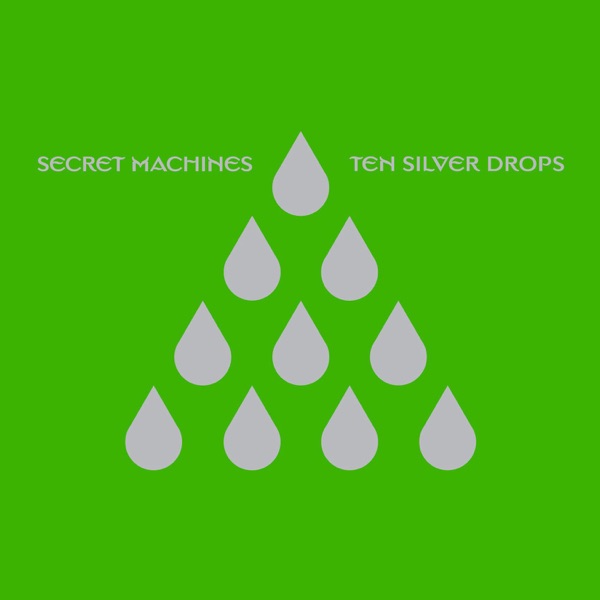 Ten Silver Drops available on iTunes
The Secret Machines Ten Silver Drops
The first album up for review is Ten Silver Drops by The Secret Machines. This is the second album by the psychedelic Dallas band (now based in Brooklyn). Their previous release, Now Here is Nowhere, earned quite a bit of praise and won them some impressive fans. In fact, Bob Ezrin, who produced Pink Floyd's The Wall, even offered to handle Ten Silver Drops. The band decided to go it alone, however, and Jim and Greg manage to agree on the results. For them the album is full of strong melodies, surprising harmonies, and Josh Garza's signature seismic drumming. Both critics believe they may have surpassed their debut album and give this go-around a Buy It rating.
Go to episode 20